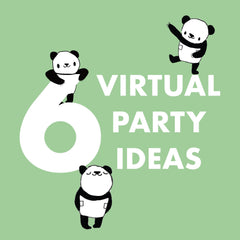 While a good old fashioned hug everyone in person is needed right now, staying home and staying safe is the way to go. Virtual parties/meetings are at an all time high to keep our distance AND stay connected, and many of us are experiencing some major virtual video fatigue. With virtual work meetings, virtual school meetings, virtual friend/family catch-up meetings...it can start to get old, and fast. 
But!  
This does not mean a boring old online meeting has to be... boring! 
Here are a few goofy party ideas to get yourself out of the virtual gloom! 
Virtual Baby Shower

Know someone having a baby?! Throw them a virtual baby shower! Are you having a baby?! For crying out loud, tell one of your friends to throw you a virtual baby shower! A baby shower is an excuse to throw the cutest little party of your dang life. Pick a theme for extra fun, like a Lumberjack theme! Where everyone gets to wear giant flannels and paint a beard on their faces! Or try an Alien Invasion theme (for the little growing space cadet in your belly!), with cute little solar system decorations! The possibilities are endless!


Virtual Gender Reveal

These are all the rage lately, and with good reason! Cut into a cake, is it pink or blue?! Pop balloons, what color air is inside? Or better yet, really revv things up and invite your friends and family to watch an intense game of gender reveal chess! This can last for HOURS, so tell everyone to settle in for the long haul. Watch two people play chess, and when the final move/check mate happens, yell CHECK GENDER! And look under the chess board! Does it say boy, or girl!?!? Exciting!
Virtual Pregnancy Announcement
Get all your family members together for a virtual call, and for every sentence you say, use the word "baby" in it. See if anyone can catch on! Will Uncle B figure out what you are trying to tell everyone? Will your sister catch on? Will Grandma be very confused at all the cheering, wondering what is going on, because she didn't have her audio on the entire meeting?! Perhaps! And it is all part of some goofy good news fun! 
Virtual Tooth Fairy Visit

This one might be a little tricky, but it is totally worth it! You'll need a couple of devices that can go into different rooms of your house. Turn the lights off in these rooms and have a family member blink a flashlight or laser pointer in the dark rooms, while your child that has just lost a tooth watches on the main computer screen! They will be in awe thinking they are spying on the Tooth Fairy. How fun! 

Virtual Happy Birthday Message

A simple video message from your child's friends is a very quick and thoughtful way to let the birthday person know they care and are thinking of them. Have your child's friends' parents take a quick happy birthday video and send you the clip, and you can splice them all together using iMovie or other splice apps. Then, play it for your birthday buddy on their big day! 

Virtual Fun Run

This is a great way to get off that couch, and get in some exercise while participating in some good old healthy competition! Virtual Runs are not only great for getting active, but they can benefit some pretty awesome charities as well. Here is a great resource with more information! Win Win! 

Alicia Wilke