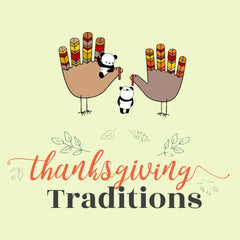 Thanksgiving! What a GREAT holiday. Here are a few tips to teach and model important Thanksgiving lessons during the holiday!
Talk about family traditions and tell stories.

If your celebration involves multiple generations or multiple families, talk about traditions, "the good old days," and your own childhood. Stories teach children about life and history. Tell everyone about that one time Grandma accidentally used vanilla pudding instead of butter in the gravy. Grandma's sweet gravy! It was so gross! And hilariously unforgettable! 
Talk about your Thanksgiving feast.

Talk to children about where food comes from and how it was prepared. Everyone can share what their favorite food is and why. Some of the years we have done away with the traditional turkey altogether and made a giant plate of NACHOS. No matter the fare, family and enjoying yourselves is the reason for this holiday! Muy Bueno!
Be thankful.

Focus on the things you are thankful for; ask everyone at the table to say what they are thankful for or make a list of everything your family is thankful for. Here at Andy Pandy we are SO thankful for all of YOU! Our wonderful customers and families. Without you we wouldn't be here! And we are forever grateful to all of you and your little babies. :)
Share and donate.

Thanksgiving is a celebration of sharing and abundance. Develop a tradition of sharing with those who have less and involve children in contributing to a food shelter or other charities. This can help children to be thankful for what they have and learn the importance of helping others.
Create something for Thanksgiving together.

Whether you're cooking with your children or creating a craft, involving kids in the preparation or an activity is a great way to celebrate and enjoy family time. Don't worry if the potatoes have a lump or two—the memory-making experience is worth it. Just like Grandma's sweet vanilla pudding gravy! Oh, Grandma! 
Alicia Wilke