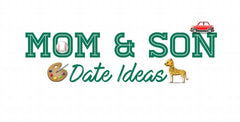 Quality time between a mother and her son is very important. For mommies who didn't grow up with brothers, here are some ideas for activities to create quality bonds your with your baby boy and not let daddies have all the fun.
Toy Cars
Rumbling wheels and the rushing wind stirs the heart of any boy. You can play with small cars to vroom-vroom around the house, radio-controlled or electronic cars with lots of flashing lights or noise, or ride kiddie cars or go-karts around a track.
The pool
Kids love water. They love splashing around, splashing themselves, or splashing other people. There is nothing more heartwarming than the wide smile your child will have as they wallop their arms on the water to enjoy the sound and water rising in the air. You can play tag with them if they have a swim ring, or help them along short water slides.

Visiting a zoo / Nature trip
Seeing various animals in real life is very interesting for children. Bring along a book with drawn animals or point out the ones from cartoons so you can compare them with their counterparts with your son. If there is one, try going to a feeding area to hand over food to the animals and see how they eat.
These are only some of the activities mothers can do with their sons. Simple fun events like playing sports or running around in a playground are also fine. The most important is the experience shared between the mommy and son as they spend time together, have fun together, and learn new things together.