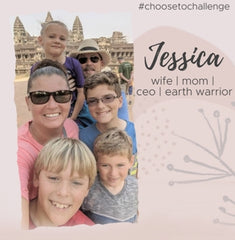 By: Rita Doctor 
Can you imagine a world without women?
It's like imagining a world without your Mum who loves you unconditionally, your sister who fights with you but stands up for you, your girlfriends who shares your craziest and most treasured moments… No nieces, no aunts, no grandmas – waaahhh 😭 It will be like a world without sunshine, with no rains or air to breathe.
No matter how you view women, they are a special force that holds this world together.
Isn't it amusing that during the pandemic nations that were ruled by women Presidents or Prime Ministers – were countries that managed the covid-19 crisis exceptionally well? From Germany to Taiwan to New Zealand and Iceland. Women leaders have stood up and have proven that during these most trying of times what true leaders are made of. The world needed the brand of leadership that is both decisive and emphatic and these women have shown us just that.
Women are not only great home managers but they are brilliant at handling national crisis as well.

The International Women's Month, commemorated every March 8th, celebrates women's achievements, raises awareness against biases and takes action for equality. This year's theme is aptly coined "Choose to Challenge." After what humanity had been through last 2020 (one year which seemed like a lifetime for many) – choosing to rise up to challenges is the battle cry if we want to move forward.
Eleanor Roosevelt once said "Do the thing you think you cannot do."
We cannot think of anyone better as a game changer than Andy Pandy's founder, our girl boss, Jessica Hansen.

Jessica is no stranger to defying the status quo. In an industry largely dominated by disposable plastic diapers, she along with husband Steve, has done extensive research to formulate the first premium bamboo diaper in the US market. This idea of developing a sustainable product that is gentle on baby's skin and friendly to the environment was born out of the love she has for children and the need to preserve the planet for future generation. This she did while holding a full-time job and raising a family.

Jessica eventually resigned from her job to concentrate on building the Andy Pandy brand. She currently has four kids whom she is worldschooling. She juggles her time as CEO of Andy Pandy and as a Mum who teaches her kids about life in general by having a first-hand experience of the different cultures. This has cultivated among her kids an appreciation and respect for the different cultures in this mega-diverse world that we live in.
Through worldschooling, the Hansens have used travels in bringing the whole family closer to nature and allowing for more bonding time and adventure. Using travels to enhance the children's education, the Hansens also make sure that they teach their children to always have compassion for others, love for the planet and a good sense of humor.

Hansen Kids, LLC is maybe a small family business but they do make sure that they treat each employee as a family. Jessica's commitment to making a positive impact through Andy Pandy products, the way she mentors and expresses appreciation for everyone in the company, a big advocate on work-family balance… these are just some of the reasons why our Andy Pandy family is grateful that our girl boss decided to #ChooseTheChallenge.

To all our beautiful women tribe all over the globe, keep running the world!