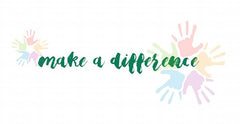 "We can choose to be affected by the world or we can choose to affect the world." Heidi Wills

When we started Andy Pandy, our main goal was to make a positive difference to our children's lives, and to the world. We continue to work hard to offer better alternatives to families and we are encouraging everyone to step up and help make the world a better place. There are a number of ways to do it.
In partnership with St. Jude Children's Research Hospital, Hansen Kids, LLC regularly donates part of its profits to help support our dear little warriors. If you had once purchased any of our products, huge THANK YOU!  
 
Remember, no act of kindness is ever too small. Together, we can make a difference.
Team Andy Pandy