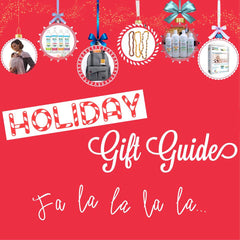 HOLIDAY Eco-friendly Gift Guide
Ho ho ho, everyone! Christmas is fast approaching, and we know that you all have Christmas preparations spinning around in your head - the dishes for the feast, invitations to be sent out or replied to, greetings and cheers to be shared, and gifts to be given to friends and loved ones. But hold on a bit on that last part. If you haven't yet the foggiest idea of what to gift to someone, we have a few recommendations. Take a quick peek, because all of them are useful, eco-friendly, and highly recommended! PLUS huge discounts on every brand!
Christmas is a time of giving and sharing. Why not make sharing extra special by purchasing gifts that "give back"? First brand in the list, these Andy Pandy products allow you to help share love and joy to the little warriors of St. Jude Children's Research Hospital, and not just for the holidays, but for the whole year round.
Answering one of the basic needs of babies are Andy Pandy Premium Bamboo Diapers. Made with bamboo and premium eco-friendly materials, this ultra soft diaper is sure to make babies feel fresh and comfortable. It's classy, plain white design makes it the perfect gender-neutral gift!
One of the softest and smoothest things in the world you can touch is a baby's skin. Happy babies with happy skin can make even complete strangers smile. Keep the happiness going with Andy Pandy Organics skin care products, made with natural materials to reduce skin irritation/allergies and give babies healing touch from Mother Nature. Perfect for the whole family, too!
Don't let teething problems get in the way of this happy season.  Direct from the Baltic Sea, we have a teething necklace made from Baltic amber. Hand-crafted and all natural, Andy Pandy Baltic Amber Teething Necklace is perfect for babies who are starting to grow their teeth. The gentle soothing effect of the amber helps with teething pain and drooling, and improves overall mood for that perfect holiday cheer.
For parents who love to go mobile, you cannot go wrong with our next product - Pura Vida Slings Baby Carrier! Made from a custom woven blend of natural bamboo and linen, this super-soft luxury baby sling keeps little one close whether you are working at home or out and about and don't want to lug around a stroller. Babies will sleep soundly in the sling while sharing momma or dadda's body warmth and the rhythm of the heartbeat, and you look stylish wearing it too! Pura Vida Slings come in 8 colors. 
Scout's motto is: Be Prepared! And so you shall be with Confident Trends Gypsy Diaper Backpack! Keep all the baby essentials in one handy backpack, with versatile spaces and compartments not just for diapers and bottles! Made from premium materials, it boasts high capacity but still lightweight and durable! Perfect for all the holiday travels!
Cleaning is an eternal battle. And like battles of old, often involves sacrifices. No more! With True Green Organics, the bleaching chemicals, toxins, synthetic fragrances, and artificial fillers will all be but a memory. All natural, garden and septic safe, biodegradable and sourced from organic biodynamic farms, now everyone can enjoy natural cleanliness as nature intended. Green Christmas it is! 
There you go. We hope this list helps you find the perfect gifts that are sure to make your loved ones smile, and our planet, too! Make Christmas more meaningful by sharing practical and sustainable gifts. Remember, there is no planet B.♥