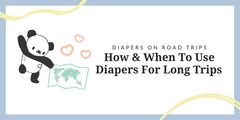 Traveling with a baby or toddler can be an overwhelming experience, especially when packing and preparing for the journey ahead. 
One essential item that parents need to consider is diapers. Whether you're a seasoned traveler or a first-time parent going on a road trip with your baby, knowing how and when to use diapers for long trips is crucial.
This article will walk you through everything you need to know about using diapers on long trips, from exploring the best ways to pack for your trip and managing diaper changes on long car rides to dealing with soiled diapers and more.
How Many Diapers Should You Pack For A Road Trip? 
Packing for a road trip can be daunting, particularly when you have a baby in tow. The last thing you want is to run out of essentials like diapers while on the road. That's why it's important to plan ahead and pack strategically.
Babies typically use 5 to 12 diapers a day, so it's best to pack at least 30 diapers for a weekend getaway. Better to be safe than sorry, right?
However, if you're going on a week-long road trip, you'll need around 80 diapers. You can also pack your daily usage plus two extra diapers per day. If you're unsure how many you'll need, start with at least 10 and keep track of how quickly you use them.
When packing for a road trip, make sure to have a separate bag just for diapers and baby supplies. This way, you can quickly grab everything you need for a diaper change without rummaging through your luggage. 
Choose a brightly-colored bag that is easy to spot, and make sure everyone traveling with you knows where it is in case they need to help out. Don't forget to pack wipes, ointments, or creams you use. 
With a little planning and organization, you can ensure you have everything you need for a stress-free road trip with your little one.
Items To Pack In A Diaper Bag For Road Trips
While going on a long drive with your baby can be stressful being prepared can make the trip much more manageable. 
Apart from the usual essentials such as diapers and clothes, there are a few other helpful items you should consider packing in your baby bag:
Barrier Cream:

This cream can help prevent

diaper rash

on long trips, as prolonged sitting can cause irritation.

Disposal Bags:

Small diaper biodegradable bags can make getting rid of dirty diapers easier and keep them contained in a car.

Portable Changing Pads:

A mobile changing station offers greater comfort to the baby during diaper changes and also provides an additional level of safety when changing diapers in public restrooms.

Constipation Cure:

Babies can get constipated while traveling due to dehydration, so bringing along a constipation cure like baby food prunes or fruit juice can help keep things moving smoothly.

Enzyme Cleaner:

In case of any accidents or spills, an enzyme cleaner can help break down any stains or smells on car seats.

Pack Extra Clothes:

Packing extra clothes can provide a quick and easy way to freshen up your baby during a long journey.
Other Essential Items To Pack For A Road Trip With A Baby
Babies require a lot of care, especially during road trips. Here are a few other things you should plan to pack while traveling with a baby:
Baby wipes

At least two bibs

Body wash

,

body lotion

, and sunscreen

Multiple pacifiers (provided your child uses one)

Three versatile baby blankets you can use as burp cloths or to cover yourself up with while breastfeeding

Two jars of baby food per meal, snacks your baby likes, and formula if you aren't breastfeeding. Don't forget to pack easy-to-eat snacks for yourself too!

A mix of familiar books and soft toys for entertainment

Antibacterial hand sanitizers and wipes

Infant nail file or nail clippers (if you're going away for over a week)

Breast pump and milk storage containers

Enough clothes, booties, socks, or shoes for each day (it's also better to pack a couple of extra outfits just in case)

Weather-specific items such as bathing suits, winter coats, sun hats, gloves, and winter hats (depending on your destination and the season)

Baby carrier or lightweight stroller

A first-aid kit for your baby (include any necessary medications, bandages, and antibiotic ointment. It's also a good idea to have your pediatrician's phone number on hand in case you need to reach them in an emergency)
Remember, if you're going on a trip in a car with your baby, put the car seat in the back and double-check to ensure it is properly attached so your baby can be safe for the long haul. Car seats reduce the risk of injury for children by 71-82%.
It's also a good idea to keep your stroller or baby carrier where you can easily reach it in case you need to take a break during the trip. By being prepared with these extra items, you can help ensure a more comfortable and stress-free ride for you and your little one.
How To Change Diapers In A Car
Traveling on the road with a baby can be a challenge, especially when it comes to changing their diapers. But don't worry; your car can be a great place to change your baby's diaper as long as you plan and have the right supplies. Below are a few tips to make it easier to change diapers on the go.
Plan Ahead And Select Your Spot
Planning is key! Don't exclusively bank on rest stops, because they may not always have a changing station. Before you hit the road, think about where you can easily change your kid's diaper in the car. Both the front passenger seat and the trunk are good options. 
Keep Supplies In The Glove Box
Keep a few diapers, a travel-sized pack of diaper wipes, and some antibacterial hand wipes in your glove box so you can easily access them during front-seat changes.
Use A Changing Mat Or Blanket
Use a changing mat or baby blanket to protect your car seat and make it more comfortable for your baby. A flannel-backed vinyl changing mat is a good option as it's easy to clean
Bring A Pillow
If your car has bucket seats or an emergency brake between the front seats, bring an extra firm pillow from home to even the surface beneath the changing mat. This can also come in handy for breastfeeding or bottle-feeding breaks and napping.
Bring A Large B

iodegradable

Bag
Pack a biodegradable bag to store used diapers when you can't find a waste bin. This will help keep your car smelling fresh and clean.
Use Antibacterial Wipes
After changing your baby's diaper, use antibacterial wipes to freshen up your hands and keep germs at bay. By following these tips, you can make changing your baby's diaper in the car a breeze.
Are Cloth Diapers A Good Option For Long Road Trips? 
You may be wondering if cloth diapers work well for road trips if your baby typically wears cloth diapers. Unless you know for certain that your destination will have laundry facilities available to you, it's probably going to be best to switch to comfortable disposable diapers like bamboo diapers for the road trip. 
Reusable cloth diapers will need to be washed and you don't want to be carting around dirty used cloth diapers for your entire trip. Disposable diapers can be easily disposed of to keep your car clean and your suitcase smelling fresh. 
Should Potty-Trained Kids Wear Diapers On Road Trips?
Parents often wonder whether they should put a diaper on their potty-trained child during a long car ride, as children tend to sleep more in the car. 
If your child is already potty-trained, it's best not to use a diaper during the trip. Traveling can be a stressful experience for some children and changing routines can add to the stress. Diapering a potty-trained child could also send mixed messages. Instead, it's better to pack a portable potty seat for occasions when there isn't an opportunity to make a stop at a restroom and take regular breaks from driving to let them use the restroom.
If your child falls asleep in the car, one concern is that they might wet the car seat. This can be a big problem during a road trip since you may be unable to wash the seat cover immediately. So, it's advisable to carry an enzyme cleaner to break down urine smells and quickly refresh the car seat material. However, it would be best to shampoo the seat covers when you have time. 
Communicating clearly with your child and taking frequent breaks are essentials. Stop every two-three hours to give your child a chance to use the restroom. This minimizes the risk of accidents and allows everyone to stretch their legs and take a break from being seated for long periods.
What Should You Do With Dirty Diapers On Road Trips?
One of the most common challenges parents face is handling dirty diapers on the go. Knowing what to do with soiled diapers is vital whether you're driving across the country or just a few hours away to Grandma's house.
You can use special bags made for diapers or even old bread bags to pack diapers up. Look for an outdoor trash can to dispose of your diapers whenever possible. 
Plan ahead and identify convenient stops along your route to dispose of the used diapers. Gas stations, rest stops, and rest areas often have designated diaper disposal facilities that you can use.
If you can't dispose of the diaper right away, you can double-bag it and securely store it outside of your car in the roof box or hitch trailer. This should help contain the smell until you find a proper place to throw it away. Remember, proper disposal of soiled diapers is essential for hygiene and maintaining a pleasant environment for everyone on the trip. 
Make Road Trips More Comfortable With Bamboo Disposable Diapers From Andy Pandy
Road trips mean your child will be sitting in diapers for an extended period of time. It's common for babies to develop a rash for this reason. Andy Pandy bamboo diapers are specifically designed to prevent diaper rashes. 
Our bamboo sheet helps to absorb moisture from your baby's skin, so your little one stays dry and comfortable and can sleep peacefully throughout your road trip. Tests have shown that our diapers are two times softer and more absorbent than disposable cotton diapers. They're perfect for children with sensitive skin, but they can provide added comfort for any child.
Moreover, Andy Pandy diapers are free of harmful chemicals, hypoallergenic, and antibacterial to keep your baby healthy and happy. They're the perfect road trip companion for families on the go. 
Have questions about our eco-friendly bamboo diapers? You can contact our team by filling out an online contact form.