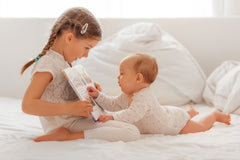 By: Alicia Wilke
Expectation:
Your baby is fresh out the bath, smelling fresh and nice and wonderful, dressed in
adorable pastel-colored pajamas. You grab her perfectly room-temperature bottle and carry her to the snuggliest chair in the house. You settle in, get comfy, your little lady all cozy and clean nestled in your lap as you reach over to pick up a bedtime book from the top of your alphabetized pile. You read to her softly as she falls asleep, so sweet and beautiful, this perfect little angel.
Reality:
-Your baby is in the tub, covered in spaghetti
-She's wild and giggly and kicking like an MMA fighter
-Getting a diaper on her burns 3,000 calories
-You're sweating and dehydrated and ready to tap out
-She's crawling away, excited, ready to party
-You lasso her back, trying to get limbs into footed pajamas
-Her leg is in the armhole
-Her head is sticking out the bottom
-She's whining for her bottle
-You forgot to get one ready pre-bath
-Let's be honest you have NEVER gotten one ready pre-bath
-You get the dang bottle and sit down with her in your lap
-She's chugging it so fast the milk is spilling/sloshing all over
-Now she probably needs ANOTHER bath
-But you know damn well the tub isn't draining
-Because it's filled with spaghetti
-A burp cloth would be useful
-The last time you saw one of those was at your baby shower
-You wonder where have all the burp cloths gone
-You wonder where have all the cowboys gone
-You wonder what happened to your Dawson's Creek DVD
-You wonder if it was really Pacey's Creek all along
-You look down at your baby, you love her so much, she's just the best
-Even though her chin/neck is just grossly covered with milk
-You wipe it off with the bottom half of your shirt
-You dry heave a little
-She's content to continue chugging, snug in your lap
-You pat around to find a bedtime story
-Praying this favorite little person of yours falls asleep
-And stays asleep
-For approx. 2-4 hours.
Sound about right? You betcha!
So, here's a list of bedtime books that aren't terrible. These are books I never mind if we read again and again and again. And again. And is she asleep yet......? No. And again. Annnnnnd....again.
Good Night, Gorilla, by Peggy Rathmann
A zookeeper who is terrible at his job. A super-sneaky, adorable gorilla that doesn't want to go to bed. Hilarity ensues. I love this book for its cute illustrations and very little wording- great for goofy improvising on every page.
Bedtime for Frances, by Russel Hoban

The first time I read this book, I wondered if the author had snuck into my house and wrote down verbatim the bedtime antics my kids pull. Frances just won't fricking go to bed. I mean she pulls out ALL the stops. My kids absolutely LOVE this book and seeing how much they laugh at that dang little Frances makes me happy to read it too.
Goodnight Already!, by Jory John

Bear just wants to go to sleep. But his wide-awake tiny neighbor, Duck, wants to
party and hang out- All. Night. Long. Sound familiar? This book kills me. Parents will relate to tired Bear, and kids will laugh out loud at Duck. And probably get some new bedtime postponing ideas...
The Color Kittens, by Margaret Wise Brown

Brush and Hush are two kittens that wear overalls and they take an acid trip with a bunch of PAINT! Okay don't tell your kids that summary but, it's a pretty accurate description. This story is hilarious and weird, and my kids get sleepy and I secretly crack up and love it.
Dinosaur vs.Bedtime, by Bob Shea

Dinosaur can overcome ANYthing- talking grownups, spaghetti, even the bath. But can he overcome bedtime? This is a board book- perfect for those lil' chubby hands. And who doesn't like giggling themselves to sleep?
Hug, by Jez Alborough

My favorite board book of all time. Bobo is seeing all the animals around him
hugging! And it's so nice! Until he realizes HE needs a hug- and his mommy. I just love this book so much. The illustrations melt my dang heart. Jez Alborough has a whole collection of Bobo books that are awesome- check them out!