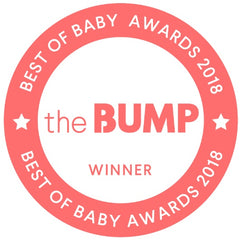 Andy Pandy Wins The Bump's Best of Baby Awards - Best Infant Diapers Category
Sixth Annual Best of Baby Awards Honor the Top Fertility, Pregnancy and Parenting Products

(ROCKFORD, MI)/March 7, 2018 – Hansen Kids, LLC is pleased to announce that its diaper brand, Andy Pandy has been selected as a 2018 winner of The Bump Best of Baby Awards. This prestigious awards program by The Bump, the definitive voice for millennial parents, honors excellent achievement in fertility, pregnancy and parenting products, and has quickly become the go-to list that every expectant and new parent consults when
registering for baby. The editors of The Bump tested hundreds of products to identify the top 60+ award
winners across nine categories: Baby Tech, Baby Eats, Diapering, Healthy Baby, Baby Safety, Baby-on- the-Go,
Maternity Basics, Nursery and Baby Learn & Play. This year's winners feature perennial favorites, plus cutting- edge tech-enabled gear. The complete list of winners for The Bump Best of Baby awards 2017 can be viewed here.
Andy Pandy Premium Bamboo Disposable Diapers by Hansen Kids, LLC.
5 Star Quality

Eco-Friendly

100% Chlorine Free

No Alcohol or Preservatives

Free of Phthalates

No Latex, PVC, TBT, or Antioxidants
"We will continue to maintain our high level of standards n all products that we introduce to the brand."
- Steve and Jessica Hansen, owners
"Every year we make it our mission to find the coolest, most innovative and practical baby and pregnancy
gear to make parents' lives easier," said Lauren Kay, deputy editor of The Bump. "Whether an established
brand or entrepreneurial startup, we take the work out of researching and testing products, so parents can
feel confident about the choices they're making for themselves and their babies."
Join the conversation about The Bump Best of Baby Awards by using #BestofBaby or following @TheBump.
Hansen Kids, LLC
8198 Rockford Pines Dr NE