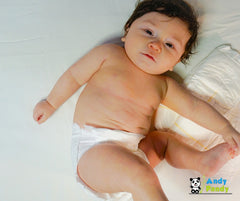 Do you wonder what your baby is thinking? Or wonder if they are trying to tell you something even though they can't speak yet? What if your child was hurting from the diaper they are wearing but they cannot let you know. And by the time the next diaper change arrives, it is too late.
Diaper rash is very common with diapers that have harsh chemicals or with babies that have sensitive skin. Being a mother and seeing the pain when changing your child's diaper can be difficult. You are trying to be gentle and careful but still, you want to make sure they are clean.
What if you could use a diaper and know that it wouldn't cause diaper rash, and it would keep your baby clean? With the Andy Pandy disposable diaper, you are guaranteed to get 100% chlorine-free and alcohol-free products. Not to mention that it has no latex, PVC, TBT, or antioxidants, which are common allergies. And an added benefit is the included wetness indicator that lets you know when baby needs to be changed.
With our diapers being made from bamboo, you not only get a soft and silky absorbent diaper but a diaper that has moisture wicking and thermal regulating capabilities. These features keep your babies' skin dry and comfortable in hot or cold temperatures helping to keep diaper rash to a minimum. Andy Pandy also chooses bamboo because it is naturally hypoallergenic and antibacterial. With bamboo being a renewable resource that grows incredibly fast without using chemical fertilizers or pesticides, it can replenish naturally. All of these ingredients and features are made to ensure that Andy Pandy is the ideal brand for babies with sensitive skin or mother's that are ready to go organic!  
Let's keep the diaper rash to an all-time low and make sure your baby is comfortable during the day and at night. Here is to no more guessing and finally finding a brand that lives up to its promises!