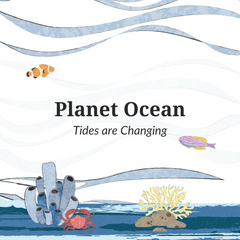 June 8 is World Oceans Day
"Planet Ocean: Tides are Changing"
Here are some ways you can celebrate World Oceans Day and help protect the ocean:
Volunteer
You can join organized groups, NGOs, friends and family for some volunteer work like speaking up and spreading awareness about the importance of the ocean; or attending some much-needed beach clean-up drives.
BYOB (Bring Your Own Bag)
And coffee cup. And water bottle. Some take out containers, too! Avoid single-use plastics and make that eco pledge to remember your reusable items, every time ;) With that being said, PUT. THEM. IN. YOUR. CAR. OR BAG. OR BICYCLE BASKET. RIGHT NOW.
Learn More About the Ocean
The United Nations is joining forces with decision makers, scientists, private sector executives, civil society representatives, indigenous communities, celebrities and youth activists and more to put the ocean first. Join the United Nation's Virtual Event